A Strong Start of 2021:Aden Group and the SCODA Sign Strategic Cooperation Agreement
2021-04-16 22:12:46
admin
source:
share:
As the new year began, Liu Jianjun, Member of the Standing Committee of the CPC Qingdao Committee, Secretary of the CPC Jiaozhou Committee, Secretary of the Party Working Committee and Director General of the Administrative Committee of the SCODA led a delegation to the headquarters of Aden Group in Shanghai and held talks with Joachim Poylo, founder and president of Aden Group, Francois Amman, co-founder and co-president and Jiang Zhe, president of Smart Industry. The two sides signed a formal strategic cooperation agreement on cooperation between the SCODA, Jiaozhou and Aden Group.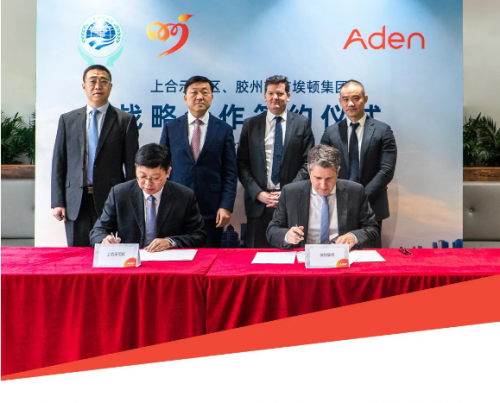 The strategic cooperation between the two sides focuses on the China-France Cooperation Hub in the SCODA. Aden Group will use its technological innovation and experiences in integrated facility management, smart park/zone, energy optimization and smart services and management platform to take part in the development of F4.0 intelligent industry exchange center and local industrial upgrade. The two sides will also promote in-depth cooperation between China and France in industrial technology exchange, smart industry, smart medical services, smart new energy, financial leasing and other areas. The strategic cooperation will further strengthen intergovernmental and business cooperation as the two sides will work together to set up an exemplary platform for industrial ecosystem and smart city cooperation.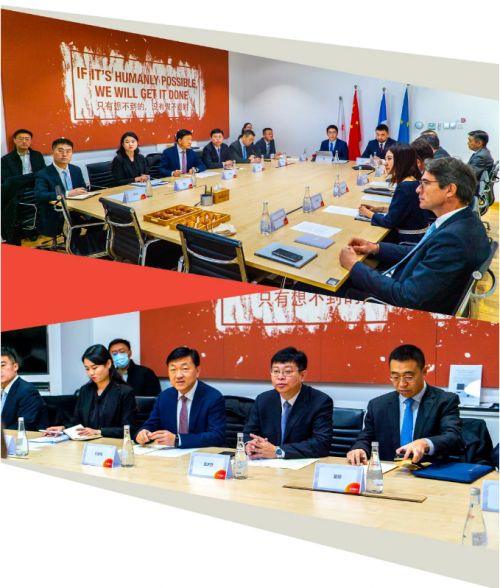 The China-SCO Local Economic and Trade Cooperation Demonstration Area (SCODA)
The SCODA is an international cooperation area whose establishment was announced by China's President Xi Jinping. The SCODA is situated on the north coast of Jiaozhou Bay. It is in a 15-minute economic circle which is a hub of the sea, highway, air and railway transportation. It has a well-developed transportation network composed of one cross-sea bridge, two stations, three ports, three highways and four passenger-railways. The SCODA is striving to build a new Belt and Road international cooperation platform by leveraging its role in the development of the economic corridor of the Belt and Road New Eurasian Land Bridge and in maritime cooperation and is fostering the five centers, namely, international logistics center, modern trade center, two-way investment cooperation center, business travel and cultural exchange development center, and marine cooperation center. It is also stepping up efforts to build the SCO International Cooperation Hub and a hub for the SOEs and local government cooperation.
Aden Group
With its roots in Asia, Aden is an International Integrated Facility Management (IFM) specialist with 20-plus years of experience in China, ASEAN and other regions. It is headquartered in Shanghai, China. It has over 26,000 employees in 25 countries around the world and operates business in nearly 80 Chinese cities. It provides partners with multi-dimensional and high-quality IFM services. Aden has clients in various sectors including commercial property, industry and others. Many Fortune Global 500 companies choose Aden as their strategic partner.